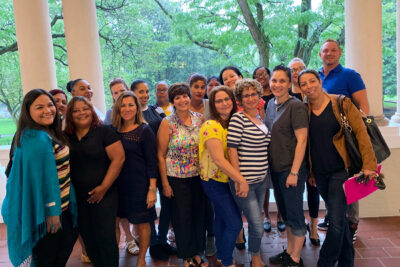 P artners in Learning, Inc. (PIL) first began to take shape when Theresa Pagano visited the National Louis University Latino Outreach Program in Chicago, IL. Theresa was impressed with the involvement of Latina women and their children in language and literacy development. Theresa brought the program design back to Syracuse and began to investigate the need for a similar program in the rapidly growing Latino community.
In 1988, Theresa discovered that less than ten Latino children were involved in early childhood education in the community and that, due to language and socio-economic barriers, many of the Latino families lacked an awareness and understanding of early childhood development.
On May 19, 1989, New York State officially recognized PIL as a not-for-profit organization. PIL had received its federal 501(c)(3) tax-exempt status in 1990.
In 1989, Theresa and a small group established the MANOS Early Education Program to bring educational resources to the Latino community and to help the community overcome language barriers. Funding from the Central New York Community Foundation, AXA Equitable (formerly The MONY Group), and a New York State legislative grant ensured a strong start for the initiative.
Within a year, MANOS outgrew its space at the Spanish Action League. PIL approached the Syracuse City School District and in 1990 a partnership was born. The MANOS Early Education Program moved to Blodgett School. The Center began with three families, and today serves 80+ families and children through expanded programming for birth through five-year-old children and their parents or caregivers.
To better serve the community, Partners in Learning, Inc. broadened the original mission of the MANOS Program to establish the West Side Adult Learning Center (WSLC) in 1992. The Center's focus on adult learning principles makes it a vital part of the community serving more than seven hundred learners in their efforts to be productive workers, entrepreneurs, consumers, and engaged citizens.
Partners in Learning, Inc. continues to build bridges for families from around the world who are seeking to realize their dreams in America. Together, we all strive to learn, earn, and live well in Syracuse and Onondaga County.